Made from a foamed polyblend on a PVC base (all components comply with the REACH standards).
The new integrated soft lips offer a clean join with the flooring, protecting it from e.g. water penetration when wiping, therefore, making it also ideally suited to wet-rooms.
Even with the basic decoration (see decoration installation) the foam skirting USL 60 Clip is able to cover a wide variety of contemporary floorings. This is able to provide a uniform finish especially with trendy vinyl floorings.
1 VE = 10 x 2.5 m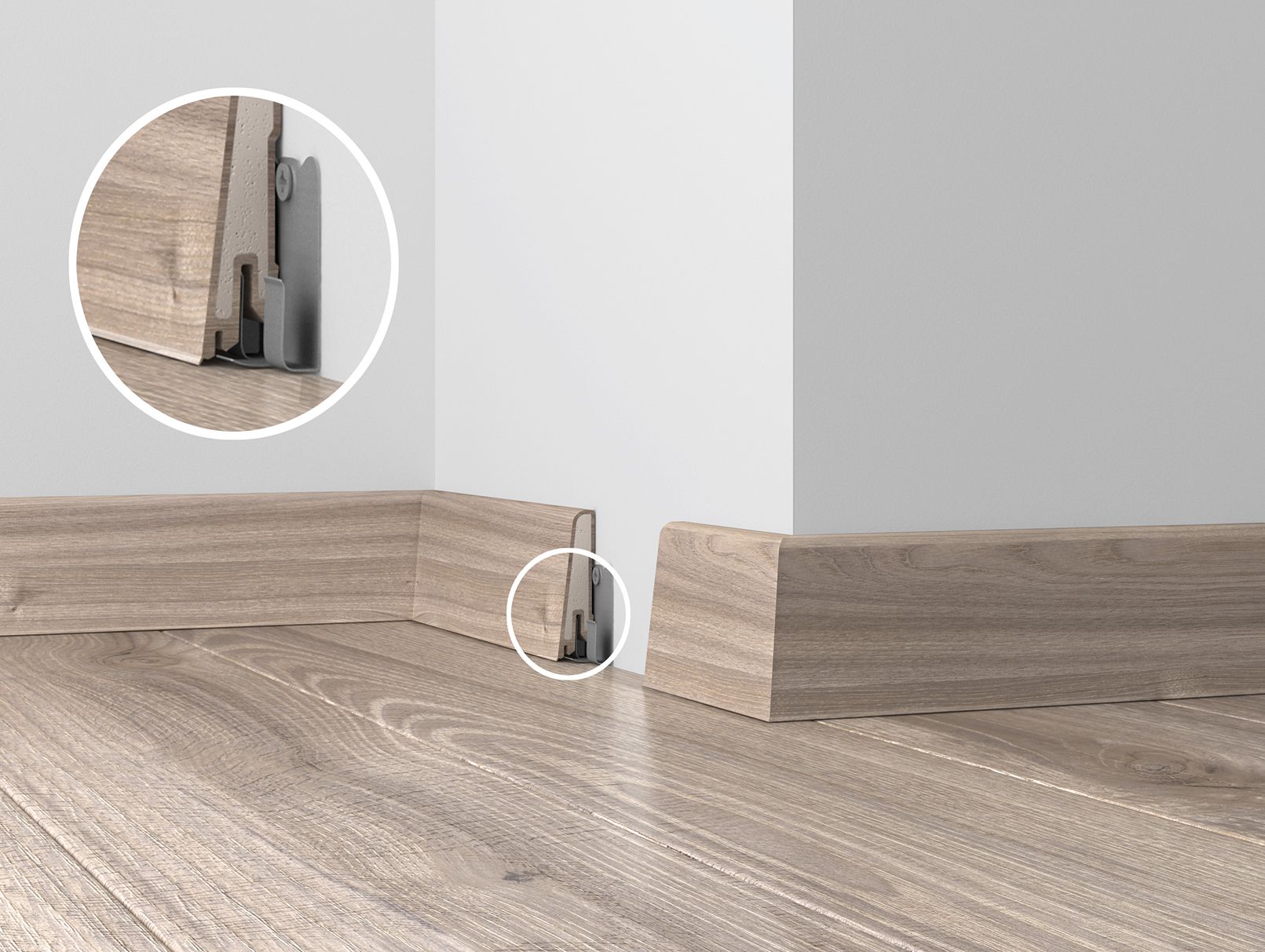 Accessories

| | | |
| --- | --- | --- |
| USL 60 Clip | Decor Number | Indoor and outer corners |
| oak torgon | 2655 | silk grey |
| oak brixen | 2654 | silk grey |
| bunde | 2754 | silk grey |
| golden oak natural | 2687 | bronze |
| jaw morgins | 2318 | uni silver |
| malta | 2684 | uni silver |
| genova | 2681 | uni silver |
| corsica | 2682 | uni silver |
| mikonos | 2683 | uni silver |
| smoky dark pewter | 2675 | uni silver |
| binz | 2753 | grey |
| alumetallic | 1436 | grey |
| borna | 2752 | oak |
| smoky old gold | 2709 | oak |
| oak verde/feldis | 2647 | oak |
| oak bondone aver | 2166 | oak |
| oak simmertal | 2348 | oak |
| oak verde/feldis | 2647 | oak |
| golden oak honey | 2686 | oak |
| oak kiental | 2433 | oak |
| golden oak white | 2685 | oak |
| oak champery | 2678 | oak light |
| bomanga | 2699 | oak bright |
| golden oak white | 2685 | ivory |
| cooker | 2751 | ivory |
| oak brown forest | 2592 | ivory |
| oak engelbert | 2676 | brown |
| walnut | 2073 | pale brown |
| beech steamed | 2643 | ockerbrown |
| roma | 2679 | slate grey |
| black | 0110 | slate grey |
| smoky oak gray | 2734 | slate grey |
| sicily | 2688 | slate grey |
| assisi | 2680 | uni white |
| weser hell | 2755 | uni white |
| white | 1137 | uni white |
| bebra | 2750 | beige |
| oak vallees/gold oak brown | 2677 | beige |
| beach natural | 2964 | ockerbrown |
| oak grey | 2552 | silk grey |
| oak modern | 2348 | oak |
| maple canadian | 2644 | ivory |
| oak | 2169 | oak light |
| colombia pine | 2742 | oak |
| oak simmertal | 2348 | oak |

Internal corners, external corners and end caps left/right available in 9 colours.

1 sales unit = 10 pieces

Internal corners

1 sales unit = 10 pieces

external corners

1 sales unit = 10 pieces

end caps left/right

1 sales unit = 10 pieces

Beige

Elfenbein

Schiefergrau

Seidengrau

Braun

Blassbraun

Colours/Decors

2318

2348 eiche modern

2592

2676

2677

2678

2680

2681

2683

2433 Eiche Kiental

2647

2654 eiche zermatt

2675

2679

2682

2684

2685

2686

2687

2688

2709

2734

2655

2166 (2034)

0110 schwarz

2073 Nußbaum

2224 (W699)

2643 buche gedämpft

2750

2751

2752

2753

2754

2755

1137 weiß

2964 beach natural

2552 eiche grau

2644 ahorn kanadisch

2169 eiche

2742 colombia pine

2755 eiche italia

3479 oslo

3481 riga

3480 paris